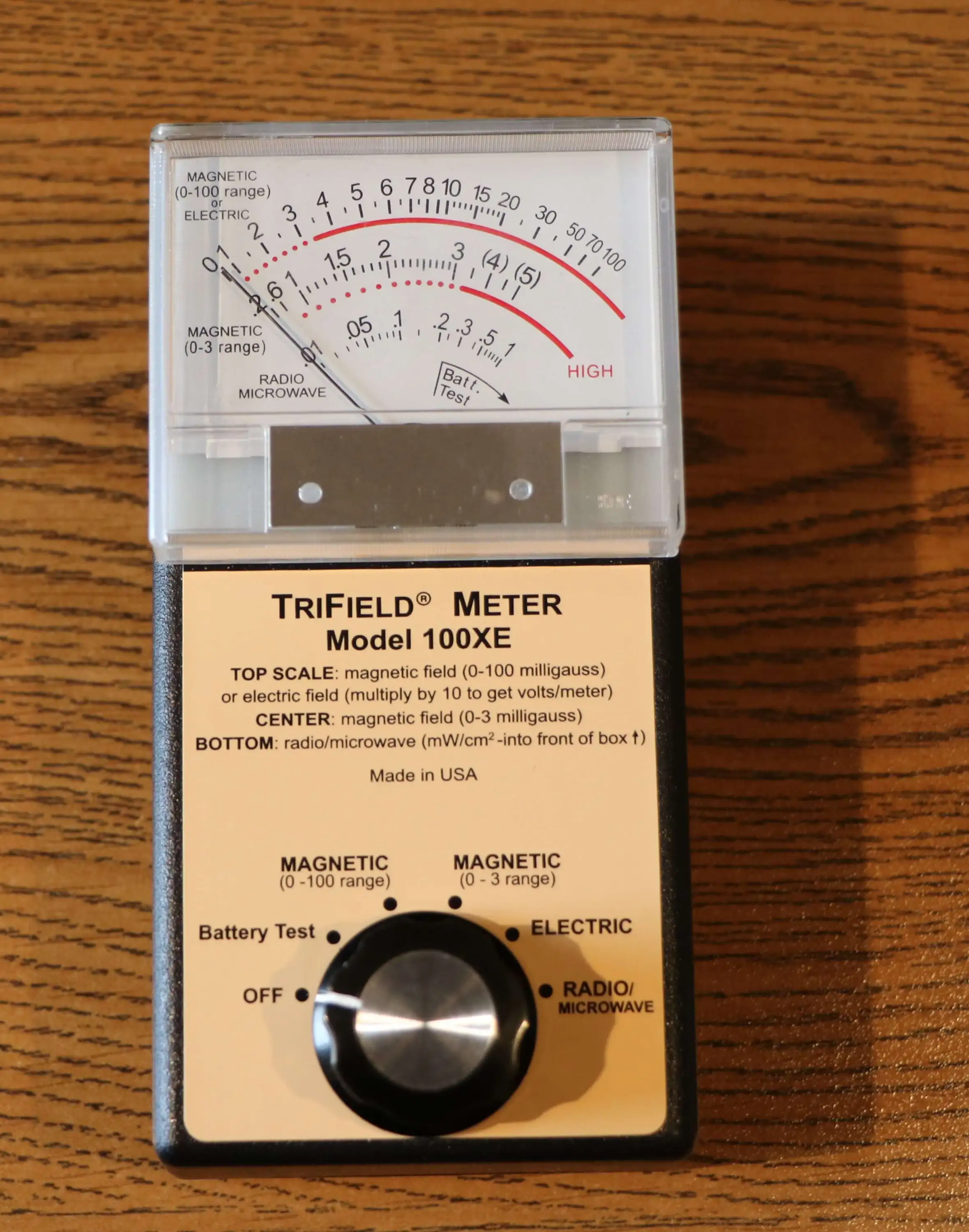 Trifield Meter
$50 Weekly Rental
This handheld meter is very useful for detecting the ranges of radiation from microwave ovens in your kitchen, as well as miswiring in your home. Finding miswiring and correcting the errors can decrease your exposure to unwanted electromagnetic fields. This was a very valuable tool in our home, where we discovered a grounding error that caused high fields in our children's bedrooms.
The TriField EMF Meter is an AC gaussmeter, AC electric field meter, and radio power meter. For more information on this meter, you can check the link below.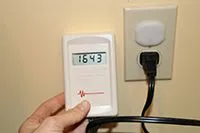 Stetzer Meter
$50 Weekly Rental
This unit plugs into an electrical outlet to determine the presence of microsurges in your home. Microsurges can be mitigated with Stetzer or Greenwave filters. These are devices that plug into an outlet and literally filter the voltages that may be carried into your bedroom or workspace from powerlines and other electric fields near your home.
The pictures show a Stetzer meter being used with and without a filter device in my office, to give you an idea of the difference in readings. We use this device sometimes when traveling, but also when looking at sleep spaces and work spaces where we spend a lot of time. This meter is best accompanied by the purchase of Stetzer filters. See the link below to consider purchasing a few prior to use of the meter.
Stetzer Meter with Filter
Notice the decrease in microsurge reading with the filter in place.
Decreased from 1643 to a safe value of under 50 units.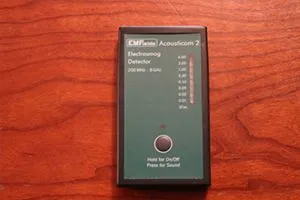 Acousticom 2
$65 weekly rental
This meter detects radiofrequencies from cell phones, cell towers, cordless phones and other devices.
The acousticom 2 is very easy to use. LED lights indicate in the presence of electromagnetic fields in the range of 200MHz- 8 GHz. The LED light changes with increasing signal strength from green ( generally safe for those who are electrically sensitive) to yellow, which represents a moderate exposure and finally red for high exposure. This can help identify sources of electromagnetic fields in your environment and where they are most concentrated.
I used this meter to shield the WIFI router in our house as well as find material at the fabric store that provides shielding.
To learn about electromagnetic fields and some of their health effects check out this blog: https://www.bewisebewell.com/blog/88393-electromagnetic-frequencies-and-health. With all rentals a refundable security deposit (based on the value of the device) is held until the device is returned in excellent working condition. All three devices can be rented simultaneously for a discounted rate of $150 weekly with security deposit.
Frequency Specific Microcurrent Unit
Rental $150 for 3 day rental.
Frequency Specific Microcurrent(FSM) is a valuable tool, especially to help with acute injuries. This device can be programmed by Dr. Kathy to suit your needs.
Microcurrent has been shown to increase energy production and promote healing to injured tissues. This may speed the recovery of your injury especially when it is treated early. We sometimes can get athletes back on the field in a week or two, if their injury is not severe.
Using the device daily immediately following an injury may significantly improve your recovery time.
There are many off label uses of microcurrent therapy that you can discuss with Dr. Kathy. For more information you can read the Book, "Frequency Specific' by Carolyn McMakin. To rent this device, you must be a microcurrent patient or have an assessment and or treatment in the office for your particular condition. This is to ensure that it is a safe treatment for you.