Why choose the Center for Holistic Medicine for Medical Acupuncture
There are many things that distinguish Dr. Kathy from other acupuncturists. First, Dr. Kathy is a trained medical doctor. She is board certified in both Emergency Medicine and Integrative and Holistic Medicine. Dr. Kathy has also been practicing medical acupuncture since 2009, giving her significant experience. Dr. Kathy also has knowledge, training and experience in other pain management modalities such as frequency specific microcurrent, craniosacral therapy and functional medicine. Because of this, she can offer a multi-modal approach to the treatment of many acute and chronic injuries and medical problems. When Doctor Kathy sees you in the office, she performs a medical exam related to your injury or medical condition. Thereafter, she discusses treatment options. Patients are encouraged to have at least three visits to see if they are responders to acupuncture, however, more sessions may be needed based on the severity and chronicity of the condition. Call today to schedule your first appointment. We look forward to serving you!
Acupuncture
Medical acupuncture is a complimentary discipline that is most commonly integrated by physicians into a conventional medical practice. Medical acupuncture respects our contemporary understanding of neuromuscular anatomy and pain physiology while embracing the classical Chinese perception of a subtle circulation network of a vivifying force called qi(pronounced chee). This hybrid acupuncture approach expresses the best of both worlds by describing a context in which acupuncture can organize patient symptoms that usually escape attention in the standard medical evaluation. Musculoskeletal problems have been shown to be the most frequently and successfully treated disorders; however, medical acupuncture is adaptable to most clinical practices and can be used either as the primary or a complimentary treatment. The physician acupuncturist can creatively intervene in a spectrum of medical disorders from early premorbid manifestations to chronic organic or musculoskeletal lesions by activating the appropriate subunit of qi circulation. (Altern Ther health Med. 1998;4(3):35-45)
There are multiple uses for medical acupuncture. Most commonly it is used to treat musculoskeletal pain, spasm/strains, acute and chronic back pain, nerve entrapments, muscle tension headaches, soft tissue pain and peripheral neuropathic pain. Acupuncture also can address low energy, mild depression, stress related myofascial symptoms, substance abuse and can facilitate chronic pain management. It is also used for immune dysregulation- characterized by frequent recurrent infections. Acupuncture is not a miracle therapy. It has an appropriate range of applications, certain medical conditions do not respond well to acupuncture including severe and chronic inflammatory and immune mediated disorders, especially if they have advanced to require systemic corticosteroids. Acupuncture may be and is frequently used in collaboration with other conventional and non-conventional therapies.
Description of an acupuncture treatment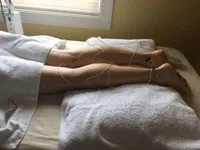 Fine needles are inserted into the body in patterns designed to influence qi.These are usually placed on the extremities and can be stimulated manually, with heat or with an electrical stimulating device. Most treatments are 8-12 minutes after needle insertion, however some treatments may take 30-50 minutes. An acupuncture treatment schedule usually involves weekly visits until the condition improves. The interval between treatments is gradually increased until the condition resolves or a maintenance treatment program is initiated for chronic medical management.